International Journal of Orthopaedics (print ISSN 2311-5106, online ISSN 2313-1462) is a bimonthly, open accessed, peer reviewed journal. The journal seeks to publish original clinical practice and research in the extensive field of orthopaedics, traumatology and arthroscopy.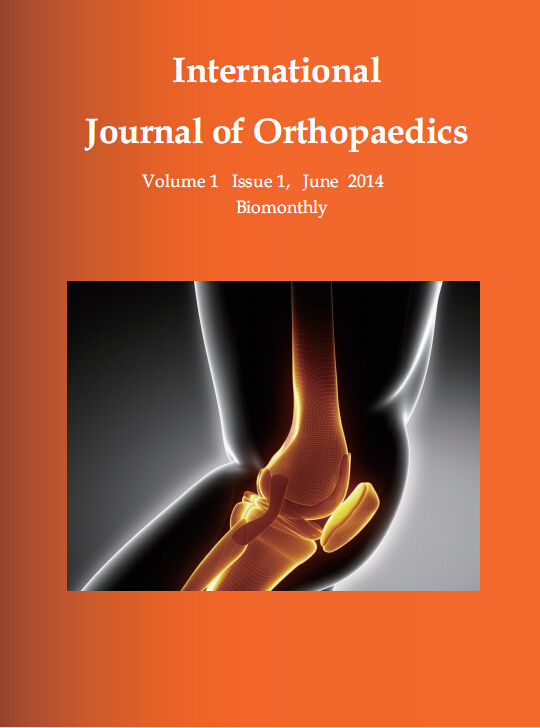 Scope of the journal covers: The journal publishes research papers in areas of research include, but are not limited to, the following: arthroscopy, evidence-based medicine, epidemiology, nursing, sports medicine, therapy of bone and spinal diseases, bone trauma, osteoarthropathy, bone tumors and osteoporosis, minimally invasive therapy, diagnostic imaging. Clinical diagnosis, laboratory diagnosis, differential diagnosis, imaging tests, pathological diagnosis, molecular biological diagnosis, immunological diagnosis, genetic diagnosis, functional diagnostics, and physical diagnosis; and comprehensive therapy, drug therapy, surgical therapy, interventional treatment, minimally invasive therapy, and robot-assisted therapy.
The columns in the issues of IJO will include:
(1) Editorial: To introduce and comment on major advances and developments in the field; (2) Topic Highlight: which summarize current knowledge and newly presented information in a particular article - a useful tool for the busy clinician; (3) Review: In depth Clinical Reviews on hot topics in Orthopaedics; (4) Original Article: Original Research at the highest level covering the spectrum of clinical Orthopaedics including the latest clinical studies on emerging developments; (5) Case Report: To report a rare or typical case; (6) Letters to the Editor: To discuss and make reply to the contributions published in IJO, or to introduce and comment on a controversial issue of general interest.
Publication and Peer Review Processes
Published Statement of Informed Consent
Published Statement of Human and Animal Rightsguidelines for Filing a Competing Interest Statement
Submission Preparation Checklist
Announcements
No announcements have been published.
Vol 2, No 5 (2015)
Table of Contents
EDITORIAL
REVIEW
ORIGINAL ARTICLE
CASE REPORT
This work is licensed under a
Creative Commons Attribution 3.0 License
.
ISSN: 2311-5106